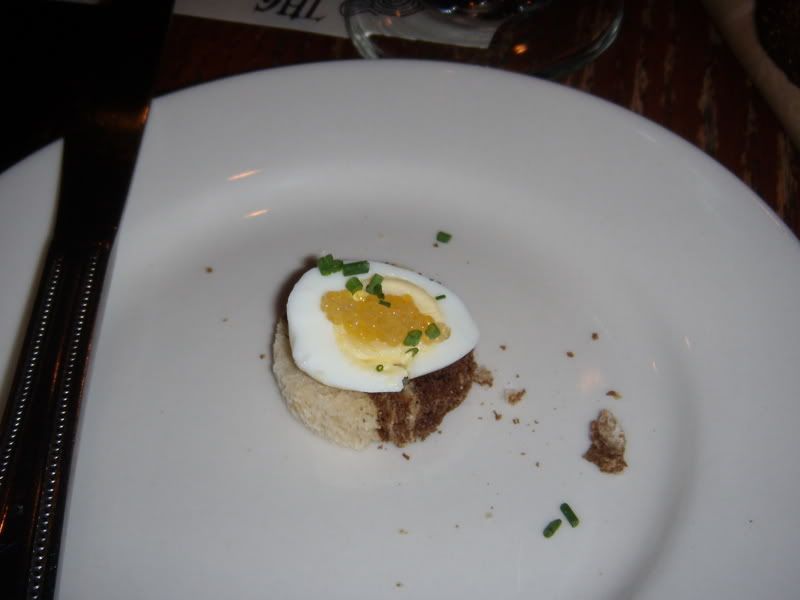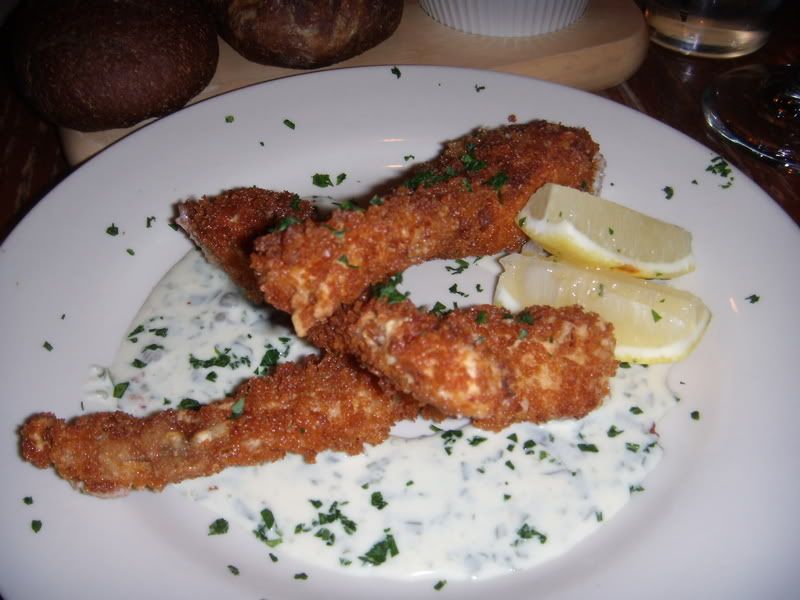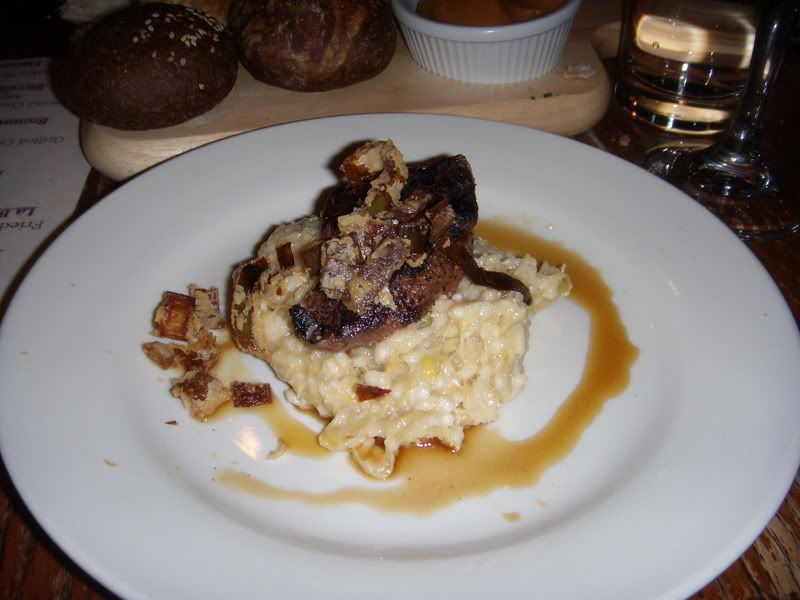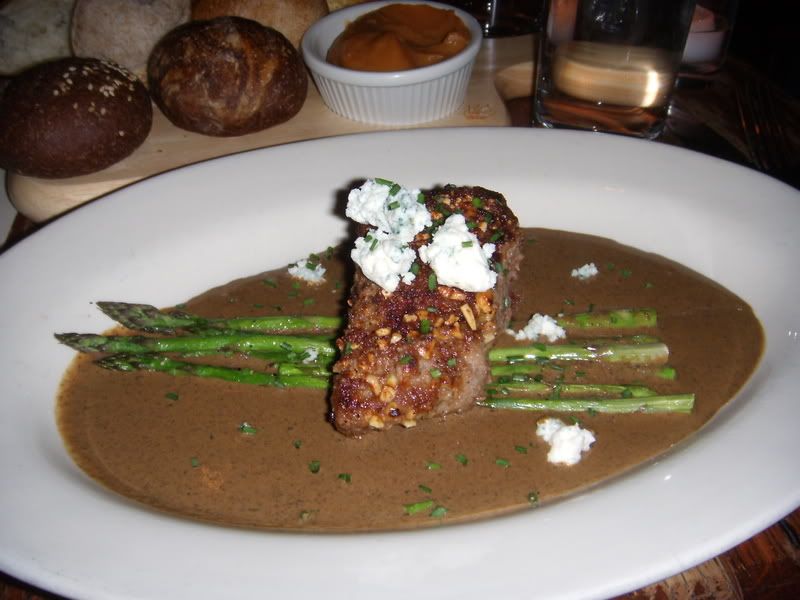 So last night was the Half Door Beer & Game Dinner, which I've been talking about for ages and was, as hoped and expected, amazing. The above photos, in order, are:
1.
Hard Cooked Quail Eggs w/ Montana White Fish Caviar on Crostini
, paired with
Weihenstephan 1809 Berliner Style Weisse
OK, these little suckers were delectable. I only had, oh I dunno, 6 or 7 of them. I mean, how often do you get a chance to have quail eggs? I mean, really! The beer was nicely paired with the egg. Apparently, as per our host & emcee, Brendan, this was the style of Berliner Weisse before Napoleon's troops ruined it. That's Napoleon for you, always ruining stuff.
This dish was the second-best in my opinion. I could totally go for a quail egg right now. I could make the world's tiniest omelette.
2.
Fried Frogs Legs with Tarragon Sauce
, paired with
La Brasserie des Franches Montagnes La Meule
I wish I could say I totally remember what I wanted to say about this beer. It, as all the others, went very well, some better. The frog's legs were awesome, like an unholy union of a fish stick and a chicken finger, like think if the Gorton's Fisherman ran off with Colonel Sanders, only better.
3.
Turtle Soup au Sherry
, paired with
Birreria Baladin Sour Nora 2005
.
This pairing was inspired, absolutely. Brendan outdid himself picking out the beer. I tried this incredibly complex, ancient-style beer and thought, "No way is this going with a rich, hearty and complex soup," but I was completely wrong. While the soup was not my favorite dish (probably my least favorite, but I hate saying that because I liked everything), with the beer it just sang. The beer, with its unusual mead-y like character and hints of savory, was a gorgeous mid-dinner addition.
4.
Grilled Ostrich Rounds w/Leek Risotto
, paired with
Brouweij de Glazen Toren-Cuvee Angelique
The ostrich was my hands-down favorite, and the beer was a great pairing. The strength and nuttiness of the beer complimented the red-meatiness of the ostrich. So good, so pink!
(side note: I'm starting to feel like Homer Simpson when he became a food critic and liked everything. The he became a jerk and that dude tried to kill him with a deadly eclair. No deadly eclair for me.)
5.
Almond Crusted Antelope w. Porcini Cream & Blue Cheese
, paired with
Biurrifico Montegioco Demon Hunter
Well, I'm not much of a mammal eater, so I only had the tiniest bite of the Antelope. Dr. Pete was a fan, as he consumed BOTH portions! I have to say, I loved this beer, and not only because of the kick ass name and kick ass label.
http://images.google.com/imgres?imgurl=http://www.birrificiomontegioco.com/Immagini/Demonhnter%2520big.jpg&imgrefurl=http://www.birrificiomontegioco.com/demonhunter.htm&h=440&w=400&sz=34&hl=en&start=8&um=1&tbnid=Vb_SrUeEP4r8HM:&tbnh=127&tbnw=115&prev=/images%3Fq%3Dbirrificio%2Bmontegioco%2Bdemon%2Bhunter%26svnum%3D10%26um%3D1%26hl%3Den%26client%3Dfirefox-a%26channel%3Ds%26rls%3Dorg.mozilla:en-US:official%26sa%3DN

The spiciness of the beer, however, held up nicely against the antelope without overpowering it.
Dessert and other pictures are going to be coming up in a later post, as Blogger only lets me upload so many images.
You'll have to just wait for that friend pumpkin pie....as well as photos of the beer, our beer host, and yours truly + Dr. Pete!